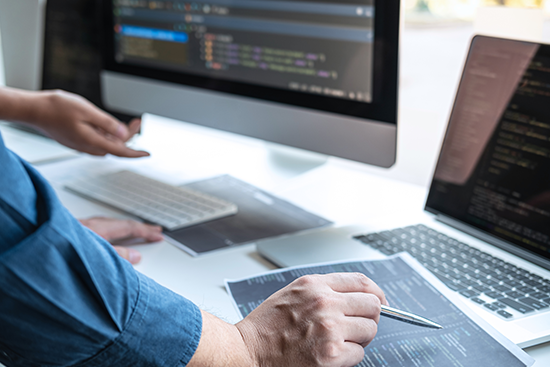 Great Ways to Improve your Website Security
If you're trying to improve your website security, there are a number of things to consider,  including how to protect your website from common security threats. Below are some of the most important things you can do to ensure that your site is as secure as possible.
Make Sure All Your Plugins and Software Are Kept up to Date.
One of the easiest but most effective ways to improve your site's security, especially if you use WordPress (as many website owners do), is to always keep all plugins and software up-to-date. Outdated software is one of the easiest ways for attackers to gain access to websites. By keeping everything up-to-date, you can help eliminate vulnerabilities that could be exploited by hackers.
A Strong Password Policy
Strong password policies protect your website from malicious actors. You can make it more difficult for hackers to break into your site by requiring strong and unique passwords. You should secure your website's backend and ensure that only authorized users have access to it.
Two-Factor Authentication
Two-factor authentication adds another layer of security by requiring that users provide two separate pieces of information—usually your login name or password, plus a digit from an app like Google Authenticator—to access your site. 2FA can protect your site against malicious attacks even if the attackers know your password.
A Web Application Firewall (WAF)
A web application firewall is a piece of software that sits between your website and the internet, protecting against threats such as SQL injections and cross-site scripting. Its first line of defense against malicious Internet attacks is a series of filters that prevent dangerous requests from reaching your Web servers.
Security Logging and Monitoring
Security logging and monitoring is a critical security measure for any website. By recording all activity on your site, you can identify any malicious behavior and take corrective action. You should check your logs regularly to look for any unusual activity.
Regular Security Scans
Regular security scans are an important part of maintaining your website's defenses. They help to identify vulnerabilities so that you can fix them before attackers exploit them. There are various different types of scans, such as web application security scans and network vulnerability tests.
Malware Scanning and Removal
Malware is a serious issue to avoid with any website, including yours. Malicious code, such as viruses and worms, can steal sensitive information from your site or take it offline. It's important to keep your website malware-free by regularly scanning it for malicious code.
Spam Protection
Spam can clog up your website's database, fill up your contact forms, and even make its way into the comments of other blogs. The best way to keep spam out of your forum is by using CAPTCHA codes and making registration mandatory for posting comments.
Informed Employees
Educating your employees about how to keep a website secure is one of the best ways to protect that site's information. It is crucial for them to know how to spot a phishing email, what steps they should take if their computer has been infected with malware, and the best ways of keeping passwords secure. A clear policy for how to deal with a security breach will help you avoid the serious consequences that can result from one.
Conclusion for Website Security
Every website owner should implement certain security measures. By following these steps, you can reduce your vulnerability to attack and protect yourself from a breach in data security. In addition, it's crucial to train employees on website security and establish clear procedures for dealing with breaches.
If you want further great tips on website security, look no further than our experts at Arruda Group for insight across the field.